Firstly, welcome to our boxing community!
Whether you're taking up boxing as a hobby, intend to go pro or are boxing just for health and fitness, having the correct type, and sized boxing glove is essential.
This post will cover everything you need to know about choosing the right boxing glove size for your individual needs when starting our boxing classes.
To find the right boxing glove size for your hand, three things need to be considered: what the glove will be used for, what weight the glove needs to be and what size to choose.
What Type of Boxing Glove do I need?
First, we need to determine what you will be using the gloves for. Boxing Gloves fall into two broad categories: Bag Mitts/Gloves and Boxing Gloves. So, what's the difference?
Bag Mitts/Gloves
These are suitable for a punching bag and boxing pad. Usually, these gloves are thinner and less padded to allow for close contact with the boxing pad or bag. I recommend these for bag work only.
Boxing Gloves
These are best for all-purpose use, like bag work, pad work, sparring and matches. You can easily recognise these gloves as they are much more padded to absorb shock and they will usually come with a thick Velcro strap around the wrists and always sizes by weight in oz.
What Boxing Glove Weight is Right For Me?
12oz, 14 oz, 16oz, what does it all mean? The weight of the glove depends on two things, your weight and what the glove will be used for. Bag Mitt/Gloves for bag work only and are usually lighter. Gloves are for general purpose use like bag work, pad work and sparring as they provide better protection. Keep in mind, the heavier the glove, the heavier the workout!
How to Choose the Best Boxing Gloves for Beginners
If you want to implement boxing into your life, you first need to make sure you get the best pair of beginner gloves. Your training relies heavily on comfort and flexibility. If your gloves don't fit properly, your performance could suffer.
You're probably anxious and excited to get started, so we don't want this small hurdle to prevent you from reaching your goals. Understanding how to choose the best pair of gloves will not only help you feel like a champion, but you'll train like a champion too.
Why do you Need Gloves For Training?
If your goal is fitness and health, you might be wondering why you need boxing gloves at all. While they may not be a requirement for general training, you never know where your goals and objectives may take you.
One day you may start with a high-intensity cardio training, and the next day you could find yourself wanting to do some mitt or bag work. When you grow stronger, your training becomes more physical, and gloves will help protect you from injury.
Since you're considering boxing as an exercise, getting a pair of gloves helps you feel like a professional; even if the only opponent you plan on facing is yourself.
What Type of Boxing Glove Should You Use?
The type of glove you choose for your training depends a lot on what you plan on doing. There are a few different styles of gloves that you might consider when shopping around. Here are three that are most commonly used by beginners.
Training Gloves
These are your everyday gloves that every boxer has in their locker. Training gloves are multi-purpose and intended for bags, mitt training, sparring, and mat work.
Training gloves are popular for beginners because they address every situation you'll encounter, but they're not necessarily perfect at anything. If you plan to focus on specific training, you'll most likely get a different pair of gloves.
Bag Gloves
Bag gloves contain a lot of padding and ample wrist support. The primary difference between bag gloves and training gloves is the amount of padding. Boxers of all skill levels use bag gloves for training and exercise.
Choosing and getting comfortable with bag gloves early on will better prepare you for high-intensity training down the road.
Sparring Gloves
The last pair of boxing gloves that a beginner would consider buying are sparring gloves. These are designed to protect you and your partner from pain and injury.
Sparring gloves are the closest thing to competition gloves, but they have more padding so you can train live without injuring someone. These are lighter than bag and training gloves, so they help improve technique and fundamentals.
Best Glove Material: Leather vs. Vinyl
If you're starting out you want to choose vinyl for a few different reasons:
Affordability
Availability
Shock Absorption
Vinyl gloves are cheap, and you can buy them at most popular online retailers.
As a beginner, you don't want to think too far into these small details. Your focus should be on getting comfortable with the setting and the training. You'll have time to worry about gloves and other training gear later.
Pick Velcro Over Laces
The next decision you'll have to make when you buy gloves is the method of closure on them. Laces fit tighter to your wrists, but there is one major issue to consider.
You can't lace gloves by yourself.
For beginners and anyone who isn't sparring professionally, velcro is always the way to go. You can put the gloves on and take them off by yourself, which is necessary for group training sessions.
If you have to grab a drink, go to the bathroom, or take a break, you'll have to ask someone to help you lace back up again every time.
How to Choose the Right Size Glove
Since you're using the gloves primarily for training, you don't have to overthink the issue of size. You want to make sure the gloves feel comfortable and have the right amount of padding and support. Beyond that, there isn't much else to think about.
As a beginner, you should focus on lightweight training gloves in the 12-14 oz range. These gloves are optimal for anyone between 120 and 200+ lbs. At this stage, your main concern is comfort and mobility.
The following glove sizes are most common:
12 oz – Typical lightweight training glove
14 oz – Heavier training glove or light sparring
16 oz – Most common for sparring
18 oz – Heavyweight class sparring gloves
How to Recognize a Good Pair of Gloves
It's difficult to choose between all the different types of styles of boxing gloves. While it is an important decision, it shouldn't be a roadblock.
Here are some things to consider when making that final decision on your first pair of boxing gloves.
Brand – The most common glove brands are Rival, Ringside, and Title. These brands won't break the bank, and they're great for beginners.
Comfort – If you're buying online, you'll have a hard time knowing if they're comfortable or not. Read plenty of reviews and see what other users are saying about the gloves. If they have any less than four stars, move on.
Padding – The best boxing gloves will have enough padding to absorb any shock. You want to find the sweet spot here and think about your goals. If you never plan on hitting a bag or sparring, don't worry about the amount of padding.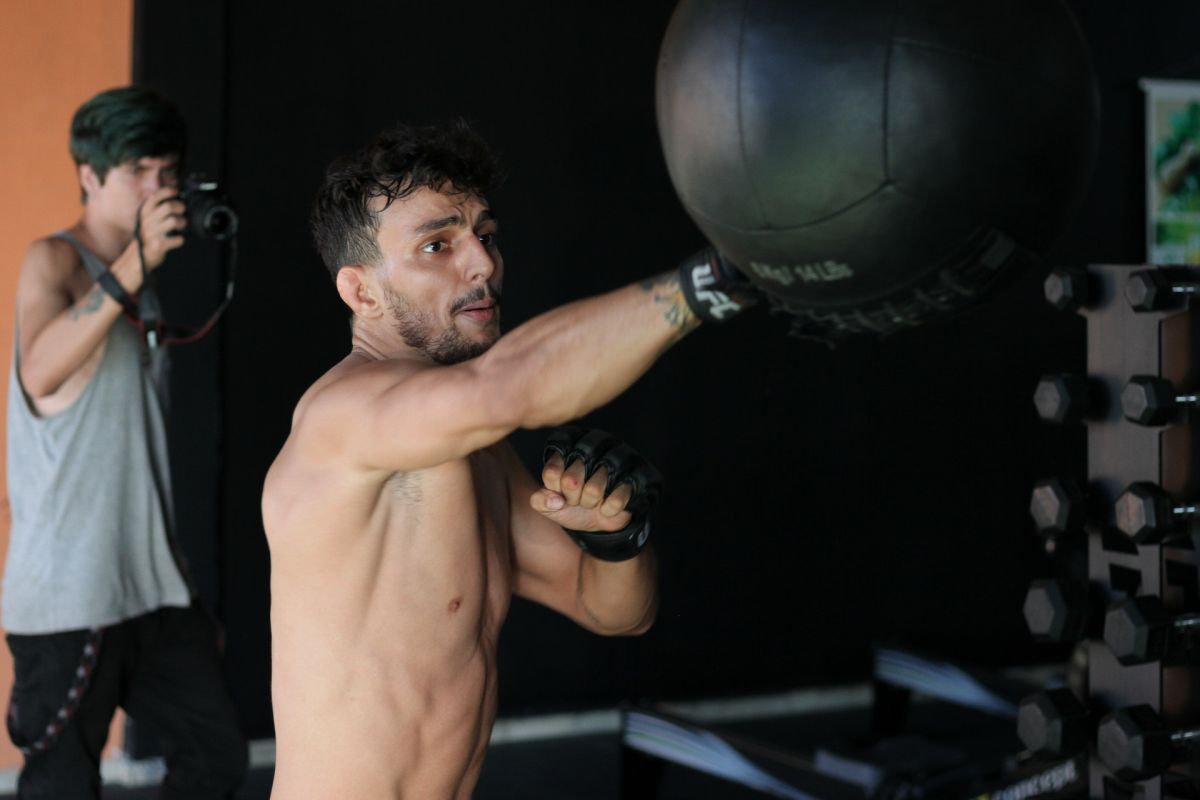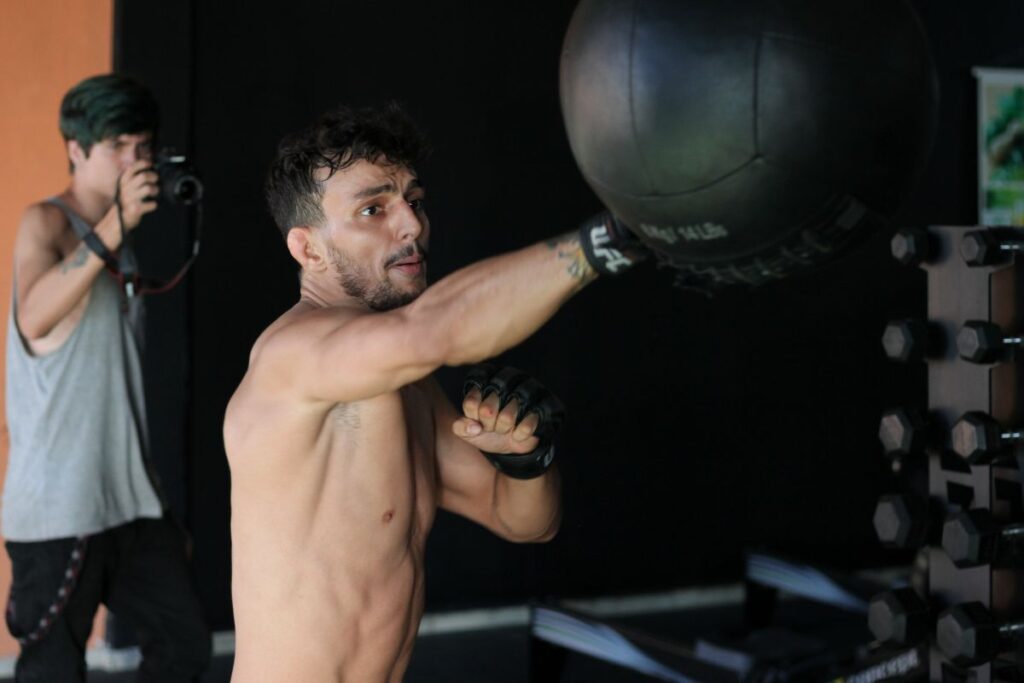 Your Journey Has Already Begun
Starting an exercise routine is stressful, but you may not even realise that you've already started. By reaching this point, you have taken the first step towards achieving your fitness goals.
The hardest part about accomplishing anything in life is getting up and getting started. Choosing the right pair of boxing gloves is easy, and everything in this article will clear up any concerns you might have.
What is the Right Type of Gloves for Me?
What is the right type of boxing gloves for me? That depends on what you are primarily using them for. It's also mostly dependent on personal preference. Some people prefer smaller, more compact gloves, while others are more interested in hand protection and like a more heavily-padded glove.
Fit is also a large factor. Just like all people are built differently, everyone's hands are unique. One glove may fit a person perfectly, but another doesn't contour to the shape of their hands the same way. The main thing is to choose gloves that fit comfortably, feel right and don't force your hand into an unnatural position. This will achieve goal #1 and, that is, that your hands are fully and adequately protected. In the end, though, what determines what glove is right for you is what do you intend to use the gloves for. There are essentially three types of boxing gloves, aside from those used for competition. This will help you figure out which gloves you need.
Bag Gloves
These are primarily used to hit the heavy bag, double end bags and other specialty bags. They typically feature a wrap-around closure for ease of putting on and taking off. In many cases, they're also constructed with a heavier, dense foam to protect your fists when hitting a more rigid heavy bag. These are not the type of gloves you would use for sparring or hitting other boxers, because they don't have as much resiliency or "give" as sparring gloves.
Sparring Gloves
These are used for making contact with other fighters, replicating a fight scenario by squaring off against a chosen partner during your workout. The best gloves for sparring have laces or have a design that covers the wrap-around closure so that neither fighter gets cut or abrasions from the hook and loop fastening system.
Sparring gloves are usually measured in ounces. Although there's no hard and fast rule, fighters who weigh between 100-126lbs should be sparring with gloves that weigh 12 or 14 ounces. Fighters in the 126-160 lb. range should be in 14 or 16-ounce gloves. Any fighter over 160lbs should choose 16 or 18-ounce gloves. This affords optimal protection for your sparring partner and adequate hand protection. The larger the ounces, the greater the shock absorbency provided.
Training Gloves
These are, sort of, a hybrid glove that can be used for sparring or bag work. They are typically firm enough to use on heavy bags, but also absorb enough shock to wear while sparring. However, it's not recommended to use the same glove for bag work and sparring. The texture of the heavy bag roughens the punching surface of the glove, and the hardness of the heavy bag also wears down the padding.
Overall, the quantity of punches you throw on a heavy bag breaks the glove down and reduces its effectiveness as a sparring glove. Training gloves are a great option if you're unsure of what you want to use them for, but once you've decided to spar in them or hit bags with them, we recommend sticking with that ONE, intended use.
Having said that, if you still choose to buy one style of glove and use it for both sparring and bag work, a training glove is your best option. Do ounces affect the size of the glove? In most cases, yes. Gloves that weigh less typically have a smaller hand compartment, especially in terms of sparring and training gloves. Lighter gloves are intended for lighter weight fighters—the greater the ounces, the more padding and protection.
Can I use any gloves for bag work? You can do bag work with almost any type of boxing gloves, but if they were not meant to perform as bag gloves, the leather (or outer materials) and foam padding would likely break down faster. The volume of punches you throw on a heavy bag is not nearly as many as you throw in sparring, so the added use will shorten the gloves' life.
Can I use bag gloves to spar with? You can do anything, but you shouldn't use bag gloves, that are typically heavier, more densely padded and harder, to make contact with other fighters. Having two different types of gloves to train with may seem more expensive, but actually, they will each last twice as long if you use them only for their intended use. What gloves are best if I have hand problems? The more padding, the better, so choose large ounce gloves for everything you do in the gym. Proper hand-wrapping and knuckle guards will also help provide additional protection and absorption of impact.
What is the difference between lace-up gloves and those that have a wrap-around closure? Safety, convenience and fit. The wrap-around style glove is comfortable to put on and take off. As long as it's designed for sparring, with hook and loop covering or "channels" that hide the hook and loop, wrap-around gloves are great for any training situation. Lace-up gloves are simply more traditional and, in some cases, can provide a more secure, custom fit.
Does one glove suit my boxing style better than another? It can. If you're a natural boxer and your game is dependent on speed, don't buy boxy bag gloves or ones that carry all of their padding in the knuckle area. You likely focus more on speed and don't need wide or overly padded gloves to slow you down. Your style doesn't lend itself to power punching anyways, so the extra foam and padding aren't as necessary for you. On the other hand, if you're a heavy-handed KO artist, look for gloves that are thickly padded across the knuckles and the back of the hand. Plus, pay special attention to lacing-up or putting your gloves on. A more custom, snug fit will help prevent the gloves from slipping, hitting incorrectly and will provide a more secure weapon.
Do I have to wear hand wraps? If you're serious about your profession, yes. As a boxer, your hands are one of your most valuable assets and should be protected at all costs. This is not an area to cut corners to save time. Always wrap your hands and secure all of the bones in your fist correctly.
Is there anything I can do to prolong the life of my gloves? Regardless of what type of glove you end up choosing in the end, one of the most important aspects to remember is that you properly care for them. For your gloves to perform as well and as long as you want them to, you need to spend some time maintaining them. When you're done using them, wipe off any excess sweat, oils or dirt.
These contaminants break down the leather/materials and foam that gloves are made out of. Store them in a cool, dry place. Don't leave them to mildew and form bacteria in a closed-up, humid gym bag. It even doesn't hurt to periodically use a mild lubricant or leather cleaner to keep them supple. Leather can dry out and crack and shortens the life of your gloves. Hockey great Wayne Gretzky was once quoted as saying, "I don't like my hockey sticks touching other sticks, and I don't want them crossing one another, and I kind of have them hidden in the corner. I put baby powder on the ends.
I think it's essentially a matter of taking care of what takes care of you." What a perfect philosophy, no matter what sport you're talking about. That's approaching it professionally. Also, wash your hand wraps regularly. The cleaner you keep them, the longer they will protect your hands, help absorb sweat and keep your gloves from getting stinky. They're your first line of defence in making your gloves last longer.
I can't tell you how many times I've been asked: "what's the best boxing gloves for beginners?" The truth is, the answer will be based on many different factors, including the specific training type that requires boxing gloves. One person will prefer heavier gloves with extra palm protection for heavy bag training, while another fighter will need extra-padded boxing gloves for sparring. If you're a beginner looking for the best boxing gloves at an affordable price, then you've come to the right place. We've put together 10 of the best boxing gloves for beginners available today.
Finding the Right Boxing Glove Size
The first step to get started is to determine what glove size will be the best fit for you. The best boxing glove size for a beginner is typically based on what they will be training for. Standard boxing glove sizes are 8 oz, 10 oz, 14 oz, and finally 16 oz. It's essential to know your glove weight because it must fit your chosen training method. It's good to know that professional boxers typically train in heavier gloves because they want their hands to be faster on fight night, compare this to a baseball batter that uses "bat weights" before stepping up to the plate.
Heavier gloves, such as 14 and 16 oz, have more padding, which means they offer better hand protection. Larger gloves help when you hit the heavy bag, mitts, and other boxing training aids. Sparring in larger gloves is also preferred because it's safer than sparring with smaller gloves. You're more likely to knock someone out (or get knocked out) when using lighter gloves. Lighter gloves, such as 10 or 12 oz, are commonly used in competition.
The boxing gloves you wear should have a snug and comfortable fit, with your fingertips able to reach the top of your gloves and the ability for your hand to make a fist comfortably. Keep in mind that your glove will need to fit your hand wraps (if you choose to protect your hands with hand wraps). If you don't have hand wraps with your while shopping, get a roll of quarters in your palm and wear the boxing gloves.
How to Measure your Hands:
Hand Circumference is measured in inches without hand wraps on. Notice that gloves used for sparring will always need to be sized up for safety. You will have a much more comprehensive selection online. I would recommend figuring out your size and finding a good deal on Amazon.
There are several different glove types, and each one has its purpose. You should be sure that you know what glove-type you need, to prevent wasting money. Here are the general guidelines for choosing the best type for your needs.
– Buy more flexible and lighter gloves for martial arts (MMA competition is 4oz open-fingered gloves used for grappling)
– Purchase thicker padded gloves if hitting heavy bags or mitts only (16 oz and above)
– Buy heavier gloves (14 oz and up) if training or sparring.
– Purchase lighter gloves (10 oz and below) if being used for competing in the ring.
– Buy all-purpose training gloves if you are unsure about competing.
The best boxing gloves for beginners will always be all-purpose training gloves because chances are you're not looking to compete right away. Make sure you purchase a pair of boxing gloves that you're able to wear with hand wraps on, and they should feel snug yet comfortable on your hand. Your hands should never hurt when connecting clean with a punch, always wear hand wraps when hitting a heavy bag or mitts. Keep in mind that boxing gloves have a break-in period, similar to baseball gloves. Don't give up on a pair of boxing gloves quickly if they feel a bit stiff t first; give them a couple of weeks to conform to your hand.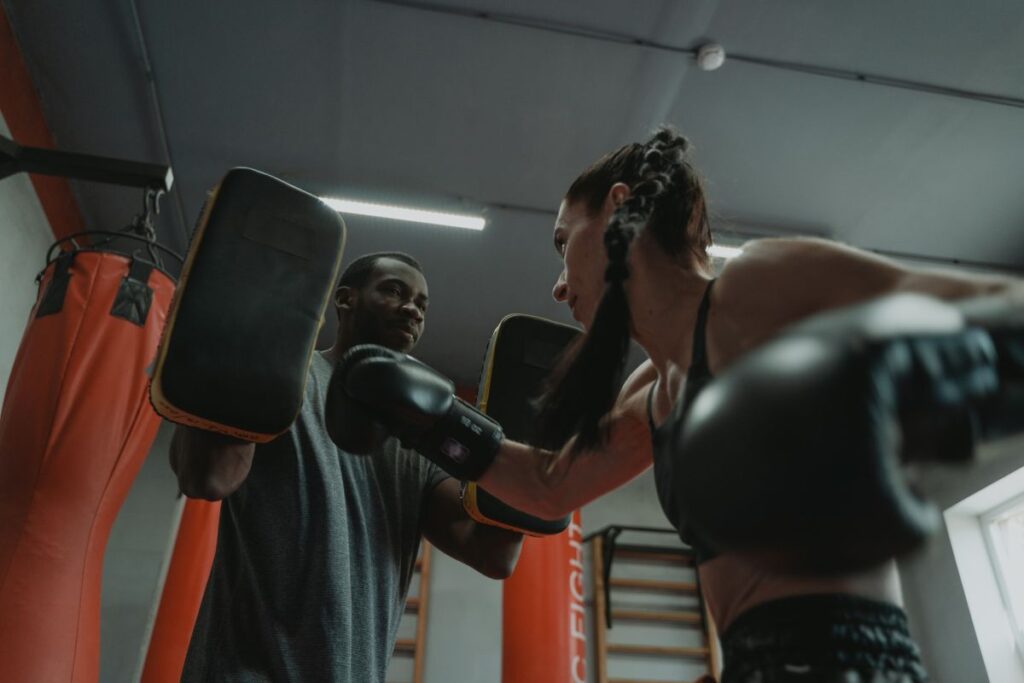 What should beginners look for in boxing gloves?
There are many boxing gloves online that label themselves "for beginners", however you must be diligent when searching for gloves online that will be most beneficial for yourself. Of course, everyone enjoys a good pair of flashy gloves. You might even think that you love Boxing/Muay Thai so much that you're willing to overpay for a good pair of gloves. When looking for the best boxing gloves for beginners, I tend to stay under the $100 range in my recommendations.
-Do the gloves come in your size?
-What material are they made out of?
-Are they hook & loop or lace-up?
These are all essential questions you should ask yourself before purchasing a pair of gloves online. I understand that buying anything online can be difficult. However, it's important to note that buying boxing gloves online shouldn't be that difficult.