The sport of boxing has a long, storied history that goes far back into antiquity. In fact, in one form or another, boxing has existed for approximately 5000 years —that's as long as humans have been using writing. Yet even in modernity, boxing has remained antiquated, as have the training regimens of the pugilists. As late as the 21 st century, boxers have been using such draconian practices as dipping their fists and faces in saline solutions or petrol like Tyson Fury, abstaining from sexual intercourse of any kind ("women weaken legs!" warned Micky, the crusty trainer in the iconic Rocky), and even drinking their urine like Juan Manuel Marquez.
Over time, boxing had begrudgingly incorporated some measures of safety and fairness (weight classes, for instance, were only introduced in 1880 before which the David-versus-Goliath matches were not just common but an attraction). Still, technological advances in the sport have been viewed with suspicion and even contempt. As a result, many fighters and trainers today still favour the old-school approaches.
As such, boxing's moniker of "the sweet science" might be considered somewhat dubious. However, the once insular and dogmatic culture has grown more receptive to newer regimes and practices. While the days of trainers yelling at their wards to run six miles uphill or chop down trees may never truly go away, modern training camps have incorporated a gamut of devices and gadgets to supplement their fighter's progress.
The operators count how many punches are thrown and how many lands are segregated into jabs and power punches. CompuBox will then run the numbers to calculate accuracy percentages for each type of punch for each boxer.
The biggest change to affect boxing glove evolution was the introduction of synthetic foam, being denser than cotton, straw and wool (and whatever else glove makers had to hand), allowing gloves to become smaller, without the loss of padding, protection and weight.
There is no doubt the watch is durable enough to use for this, so that's not a question. Of course, if you're sparring, you shouldn't wear any jewellery or watches, but with a heavy bag, I had no issues. I loosened the watch slightly, so it was a little further past my wrist.
Can I use a fitness tracker without a smartphone? Yes. Many fitness trackers can be used independently from a smartphone. Commonly, smartphones and mobile devices have helpful functions for monitoring exercises and configuring settings.
"Boxing punch trackers" or "boxing performance trackers" or "boxing fitness trackers" are essentially like the Fitbit, but for your hands. Like how the Fitbit tracks the number of steps you take, the boxing performance trackers will track the number of punches you throw.
New Technology In Boxing
There have been even greater advancements in boxing technology beyond fitness trackers. One of the most notable is the BotBoxer. This high tech machine functions as a training dummy for combat sports. Equipped with incredible systems, this machine has motion recognition and sensors that read athletes' power and precision and react to an athlete's fighting style by evading their punches. 
The Beatboxer acts as a stand-in sparring partner that can adapt and push athletes to the top of their game. Olympians like Christina Cruz and Tony Jefferies endorsed this elite piece of technology. However, the BotBoxer is exclusive to top athletes and gyms due to the hefty price tag. However, a new piece of tech has come to the scene with similar functions to the BotBoxer. 
The LiteBoxer is a newly developed product by a world-class team aiming to provide boxers with an at-home workout akin to Peloton. The combination of technology and live training provides users with a full-body workout from the comfort of their own homes. This is an ideal development as gyms are only just starting to reopen. The device is freestanding and easy to set up. It utilizes lights, targets and sensors to imitate sparring. The Liteboxer has an associated app that offers its users an array of workouts led by professional trainers. These workouts are available on-demand and range in their difficulty and duration, allowing for a unique experience with each use. The LiteBoxer also offers a range of yoga and conditioning classes to help recover. The Liteboxer is very accessible and offers great value to anyone looking to train from home.
Is There A Place For New Technology In Boxing Training?
Most people who run boxing gyms will proudly tell you how "old school" their methods are but is there a place for technology in training boxers in an increasingly technological world? 
Sports technology grows exponentially with product innovations for every sport and every athlete. And just like in other sports such as football, basketball and soccer, where new technology is becoming standard, fighters are also looking to improve their game with the market's newest wearable technology. 
If you're looking to improve your fighting game, check out these solutions:
Hykso Punch Trackers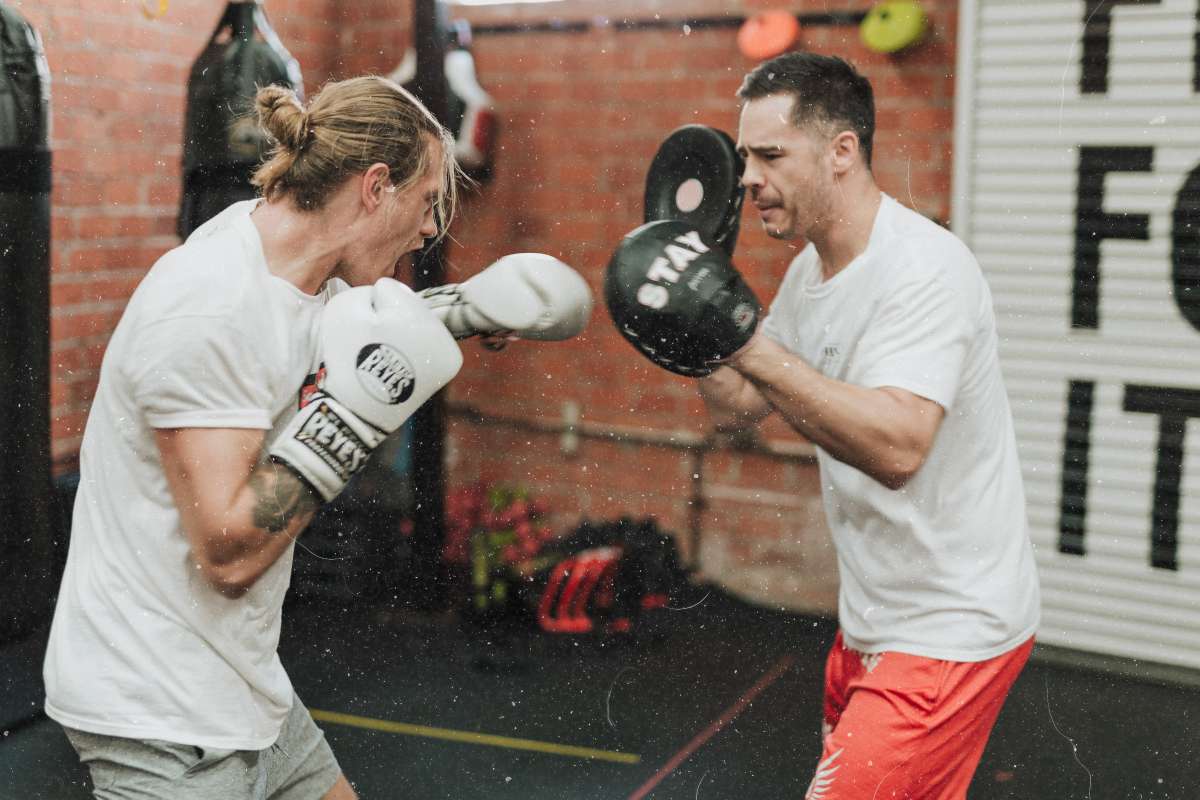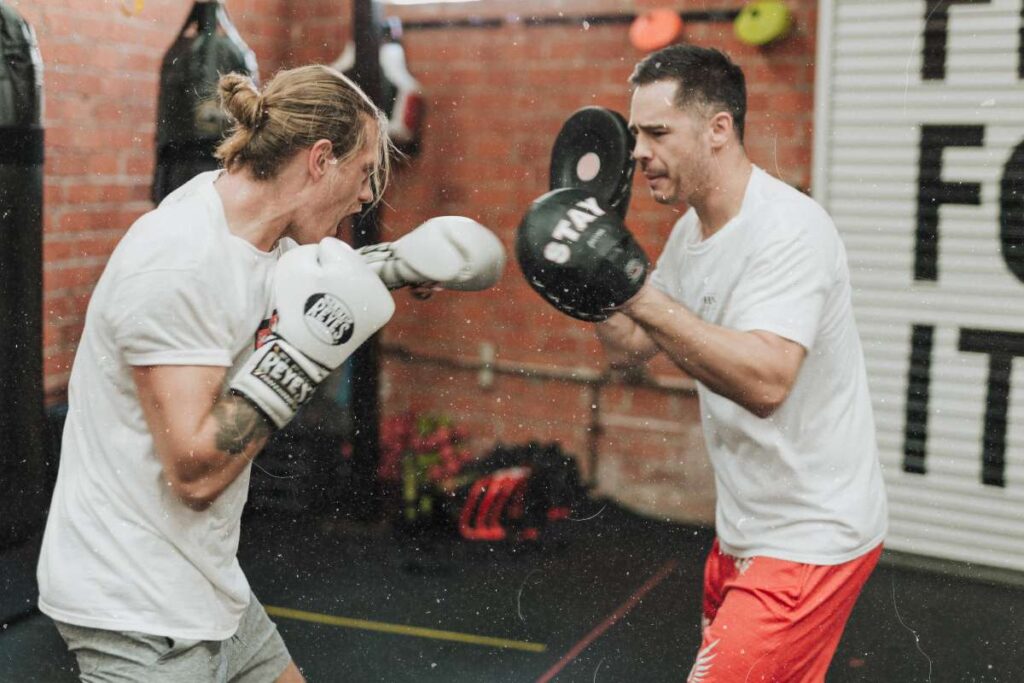 It is a US-based company headquartered in Orange County, CA, founded by Khalil Zahar. It produces tracking technology that you slip into your hand wraps and monitors your punching output during training. Boxing punch & fitness trackers all primarily have a similar design and are all associated with an app for you to track your progress on your phone or mobile device.
Hykso's punch trackers have been built to track your hands' movement 1000 times per second to detect the number, the type, and the velocity of all your punches. In addition, Hysko has an associated "Hykso app ", which allows you to view your punch output in real-time and measure your ongoing progress.
While boxing punch trackers aren't a guaranteed way to improve your boxing skills, they do help you keep an eye on your overall performance. e.g. punch volume. 
What are the benefits of Hykso?
Tracking your punches with Hykso allows you to view your punch output in real-time and measure your daily, weekly and monthly progression. You can use this information to see how you compare to other fighters, which will help identify your strengths and weaknesses. With free updates for life, as Hykso develop the app further, you will have access to any new features as they become available. 
Are they easy to use?
You install the trackers on the top of your wrists, underneath two or more wraps of your hand wraps, and you're good to go! Hykso trackers are watertight, so they are fully sweatproof even in your heaviest workouts. In addition, the trackers are autonomous, so once the session is started, all of the information is captured within the trackers and will download once back in range of the phone. This gives you the freedom to move around the gym and still track all of your punches. 
What's the technical stuff?
Hykso punch trackers offer a super-efficient battery; they will give you around 10 hours of continuous use on a full charge and only take 1 hour to recharge fully. The processor evaluates 6 degrees of motion hundreds of times a second. All calculations for each punch will be done under 100ms - ideal for those fast jabs. Hykso will remove motions it doesn't consider punches, such as jumping jacks and skipping rope exercises, keeping your data as accurate as possible.
Access to the Hykso App
Punch Output
You will get access to their fully-functional Hysko app, which is fully embedded and linked to the punch trackers. The Hysko app shows you four different types of punch variations which are pretty cool to see what punches you tend to throw more:
Left Straight (includes jabs/crosses)

Right Straight (includes jabs/crosses)

Left Power (includes hooks/uppercuts)

Right power (includes hooks/uppercuts)
Suppose you are worried about tracking other movements such as doing blocks, parries, using skipping rope etc. There is no need. Hysko has designed the trackers to remove motions such as these to ensure it only captures the above punches.
Punch Intensity
Hysko also gives you a punch intensity score (middle, above) which comes in three tiers. The amount it increases depends on your punch velocity, punch type and how you generate the speed behind your punch.
The three-tiered system acts to reward punches with lots of effort and energy. In addition, it aims to encourage you to punch as hard and as much as possible during training to get a better intensity score!
Punch velocity
The velocity features on the app (right, above) shows you the speed of your punches, 10 being the highest score you can get. It's a really useful feature to have as it can show you when your punches may start to slow down the more rounds you do. The only downside to this is that it doesn't measure the velocity when you hit the bag, which I imagine is hard to measure here.
StrikeTec Sensors
StrikeTec is a wearable sensor developed for MMA and boxing that measures and transmits real-time data on punch speed, technique and force to users' smartphones to deliver key insights that enable them to adjust and improve their performance. The sensor sends the data directly to users' smartphones, tablets or PC to give them an edge over the competition. It is used by world-class Boxers and UFC athletes and fans worldwide and makes an indispensable tool for coaches and fights promoters. It was the first product to be used in professional fights.
The Benefits Of StrikeTec
There are many benefits to be had when you add StrikeTec to your daily routine. Here are the main advantages of the product so that you know what to expect:
Real-Time Feedback
The first benefit of this product is that it provides you with real-time feedback regarding your performance.
The product measures important performance measures such as power, count, speed, and the like. With all of this information consolidated in an easy to follow application, you'll be able to make the changes necessary for true progress.
Personalize Your Workouts
The second advantage of StrikeTec is that it enables you to personalize your workout routine with all of the data that you receive.
The data enables you to decide what you need to do or to change during your boxing regimen so that you can finally make progress and improvements for amazing results.
A Device for Everyone
The third benefit to this product is that unlike others on the market, this one is geared for all users.
You can use this device and expect it to work well for you, regardless of whether you are just starting with your workout routine or are a well-seasoned boxer.
Compare Progress Round by Round
The fourth advantage to this product is that it enables you to compare your progress round by round to continue to make progress and try to beat your previous round's results.
You can even work with your teammates and go up against them. By viewing their results, you'll be able to improve yourself in the process.
As you can tell, there are many benefits to be had when you add the StrikeTec to your lifestyle. With this workout gear, you'll be well on your way to ultimate success.
Moov Now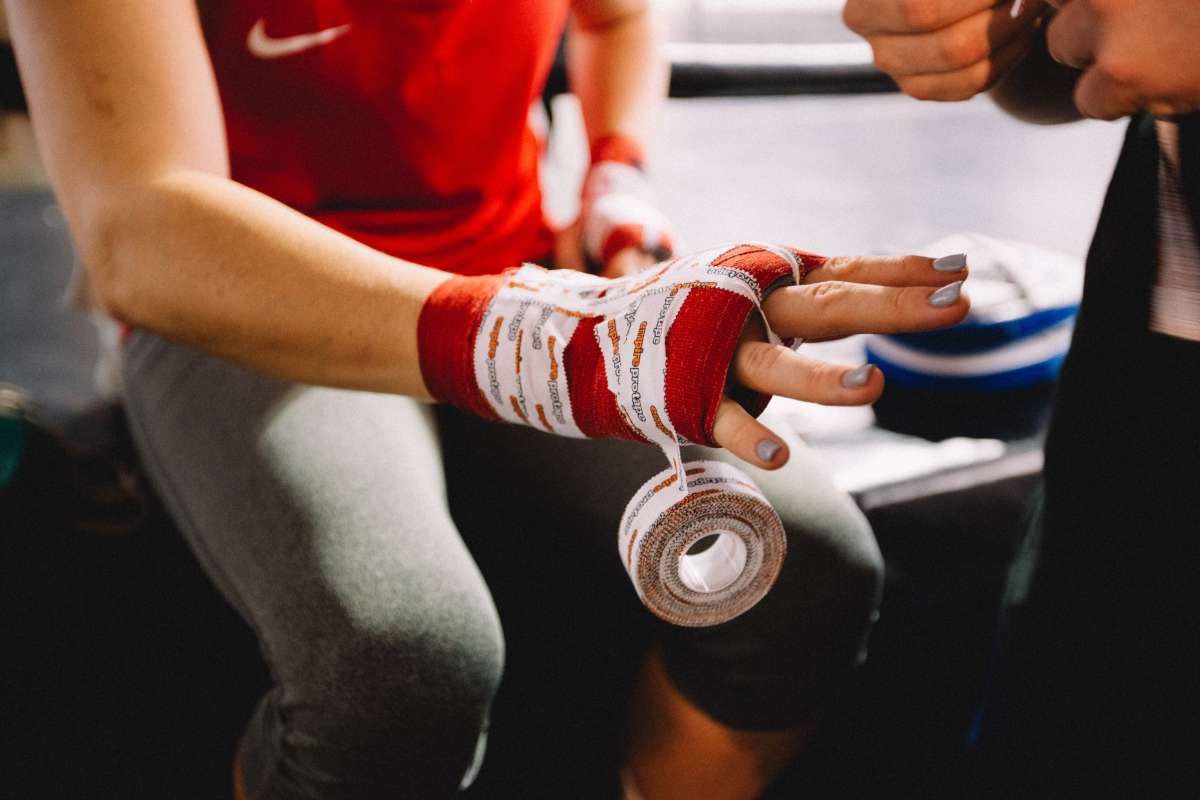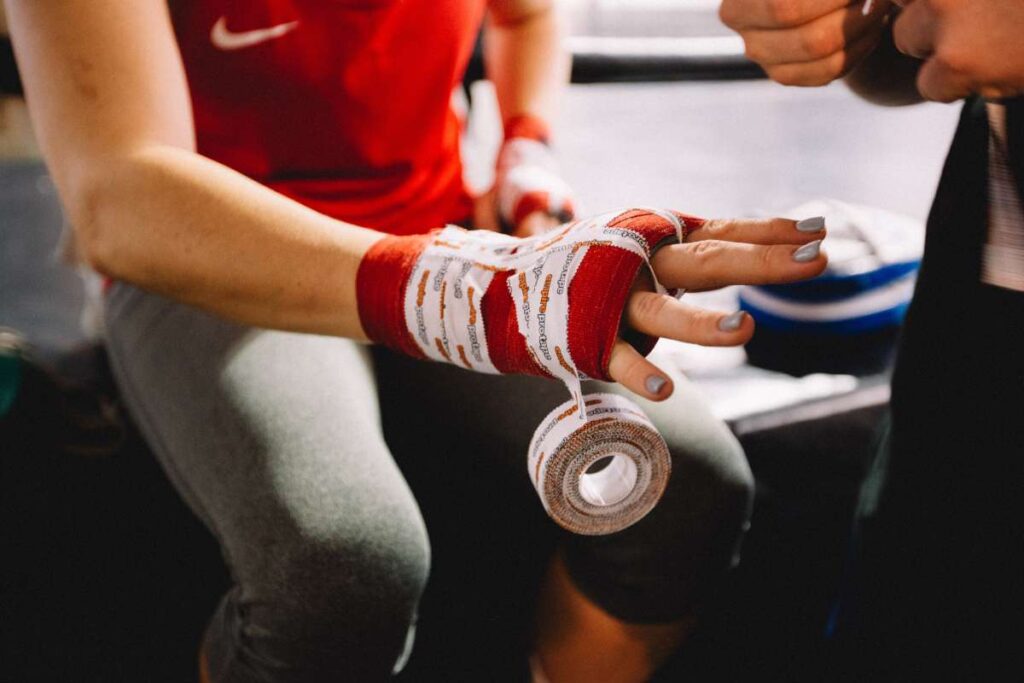 Gives you options for many different sports and exercises, including those that use boxing as a fitness regime. First, you'll get coaching in real-time, allowing you to learn different combinations and how to execute them. Then, post-workout, review your hardest punches, fastest hits, heart rate and receive tips on improving.
Feature List:
Analyses & Coaches Your Form.

Measures Motion (E.g. Landing Impact).

Tracks Your Workouts.

Real-Time Voice Coaching.

6 Month Battery Life.

Water & Dust Proof.

Provides Fitness Level Indication (With App).

Wireless Compatibility.
Motivational Sports Coaching: Anytime, Anywhere
The activity tracking features provided by Moov Now might not be cutting edge, but we didn't expect them to be. After all, Moov has always been touted as a sports coach first, wearable fitness second.
If you're a fitness enthusiast like me, it is hard to understate the importance of the coaching element. After all, a regular running watch is not a coach, and it will not make you a better athlete. Running and biking get the most coaching resources in the companion app for the Moov Now, while swimming and boxing sessions can be tracked and reported. (However, keep in mind that if you want to use Moov to track boxing workouts, you'll have to purchase two Moov Now devices, one for each arm).
In addition to sports coaching and workout tracking, Moov features several training plans custom-built to help you achieve your fitness goals, with a voice coach providing helpful feedback in real-time. For example, when using the Moov Now while running, you can select a training plan focused on either efficiency, intervals, or open training. Of course, this is the stuff that hardcore runners want and need, but it's presented in a way that won't scare away new athletes either. Overall, Moov provides a great selection of training plans for all levels of fitness ability.
Piq Robot
Everlast and the sports tracking PIQ have teamed up to launch their first wearable dedicated to boxing, PIQ Robot. The sensors are built upon a tennis tracking device, allowing you to grasp punch speed, G-force at impact and retraction time. In addition, the app will provide real-time feedback on punching harder, faster and more efficiently.  
The robot is designed to be worn with or without gloves and is an advanced tracking system for workouts, including shadow boxing, bag, mitt training, and sparring. The robot is a small tag-like device that fits inside a special hand wrap. PIQ offers lifetime free app updates to always get the best possible experience from your workout. Like Moov, this is also designed for fitness boxing instead of battles inside the ring.
APP FUNCTIONALITY
The app is very comprehensive in stats and charts. And feels the most like a sports game stat-board compared to the other apps, which feel more fitness-training focused. Has drills, workouts, reports, instruction guides. Also, a leaderboard to compare you against friends or other people. But unfortunately, the whole app has many graphics and is getting close to being too much.
Features:
Tracks each type of punch thrown, giving you a detailed breakdown of punch count by type for all your workouts: shadow boxing, bag, mitt training and sparring

Punch analysis: for each type of punch thrown, the sensor breaks down the stats showing speed, impact and reaction time

It is not only great for fighters but will track and show calories burned during a cardio workout

The app allows you to view precise analytics measured just for you. The coach-like information provides graphs and metrics to pack a stronger punch and enhance your boxing technique.